Our Blog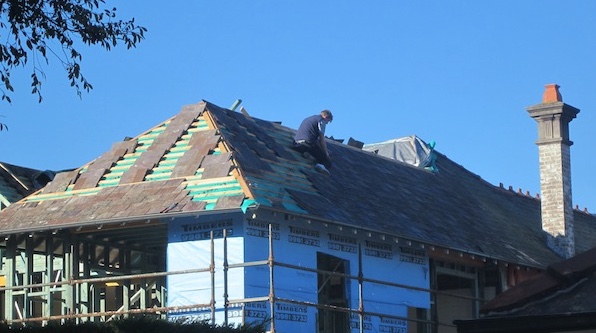 How long does it take to install a slate roof?
November 7 2018
If you have never installed a slate roof on your home or your just thinking about the possibilities of having a slate roof then your probably wondering how long it's going to take to install your slate roof?
Let's start by saying that a slate roof will completely transform the look of your home. It will give it a brand new look that will make your neighbours envious. Just imagine all those fabulous benefits of a slate roof as well as the cost savings. Simply put, getting a slate roof installed is going to add value to your house.
Before you decide on whether or not you should getting a new slate roof, you want to get as much information as possible so you can make the right decision. Obviously, you want the job to be completed as soon as possible so you really need to know how long the roof installation process will take.
When a slate roof expert commences a project they will detail every part of the job in the beginning, this is known as the planning phase. They will look at all components of the project including; your homes roof structure & will it be able to support the extra weight of the slate tiles.
They will also help you decide on the colour and type of slate tile that will suit your home. This is a huge decision and one that will affect the overall look and feel of your home. Luckily, at First Class Slate we have the design expertise to help you make the right choice.
When the roofing contractors arrive to commence work, the job starts with removing the current roof and making the area completely ready for the new slate tiles. This part of the process is carried out fairly quickly, but it's the next step that takes the time; the installation. Because, each tile must be handled with care and placed delicately on the roof with precision to avoid any chipping or cracking.
While most roofing contractors can complete the job fairly quickly, the time it takes to install a slate roof is dependent on a number of factors; the size of the roof, it's shape, access and of course the weather.
Jobs may be completed in a couple of weeks while others may take months. It's difficult and almost impossible to give an exact finishing date but any good slate roof contractor in Sydney will be able to give you a rough estimate that should be enough to go on. Generally speaking it takes 6 or 7 days to install 100sq metres from start to finish. Based on the size of your roof you should be able to estimate how long it will take to complete the job. Again, this is very weather dependent.
If you curious about how long it would take to install slate tiles on your roof and would like a professionals opinion why not call Scott at First Class Slate on (02) 9695 1451.