Our Blog
Do You Recognise the 8 Early Warning Signs of Roof Damage? (Part 1)
April 19 2016
Not sure how to tell when you need a new roof? You're not alone. Fortunately, as experienced slate roofers and experts in lead roofing in Sydney, we know what to look for.
Here are eight early warning signs that a slate or heritage tile roof may need to be replaced, or is at risk of further damage.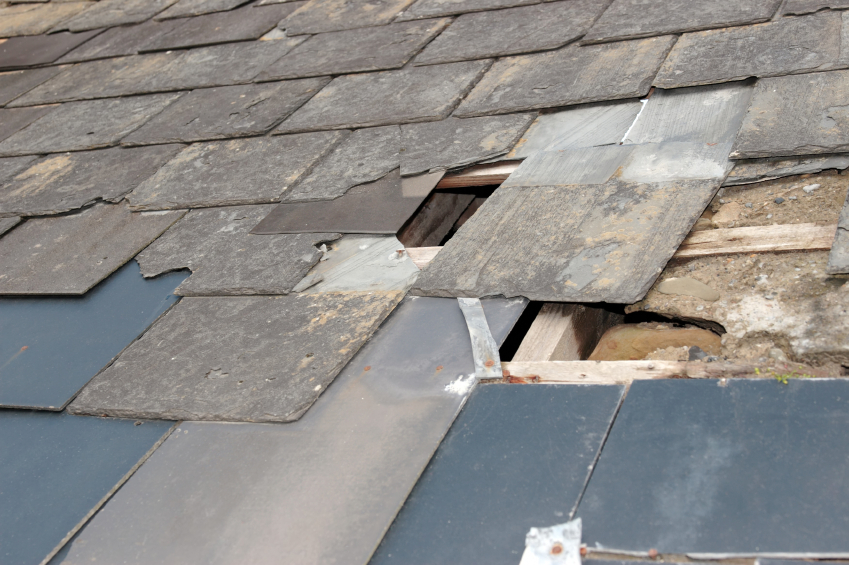 1. Moisture inside the home
If your home is unseasonably humid, or there are damp spots or pools of visible moisture forming on your ceilings or walls, then chances are your roof is structurally unsound. Staining, dampness and humidity are all signs that water damage is occurring – and your roof is the likely culprit.
2. Missing tiles or shingles
 Perhaps the most obvious sign of a roof that is at risk of further damage, missing tiles or shingles are a clear indicator that your roof is in need of some TLC. If they have broken, shifted or fallen away, your home is in danger of water damage – a potentially devastating problem.
3. Warped shingles
If the edges and corners of your slate shingles are curled or warped, they're no longer effectively doing their job of keeping out the elements. Whether the issue is from age, poor installation or low-quality materials, warped shingles can allow water and debris to seep through into your roof cavity, potentially resulting in moisture damage to your home.
4. Ageing roof flashing
Roof flashing consists of thin pieces of metal or other weather-resistant material used on roofing joins. If your flashing is rusted, corroded or has broken away, it needs to be fixed before damage to your roof occurs.
5. Sediment in your gutters
If your gutters are thick with more than the usual leaf refuse, then your roof might be crumbling before your eyes. Sandy sediment can be a sign that your roof tiles are in poor repair and need patching or replacement.
6. Obvious patching and repair
A healthy roof should look uniform in appearance. If a roof has been unevenly tiled or shingled and has obvious signs of being patched up or re-done, then chances are it's not going to last the distance.
7. Light showing through
Wait for a sunny day and examine your roof cavity or attic space. If you can see light showing through the ceiling, then your roof has clear signs of ageing or damage, and requires an expert eye to assess the need for repair or replacement.
8. Your home is getting on in age
Roofs vary in longevity, with materials and weather conditions both influencing how long they'll last. Chances are that if a roof is more than 20 years old, it needs replacement or repair. And although slate roofs tend to be much longer lasting, it's worth booking in a check-up to assess the health of your roof.
Not all signs of roof damage are immediately apparent, so if you're staring at your home thinking, "how do I tell if I need a new roof?" your best bet is to ensure peace of mind by giving our expert slate roofers a call.
In our next post, we'll look at some of the options for dealing with roof damage.