Our Blog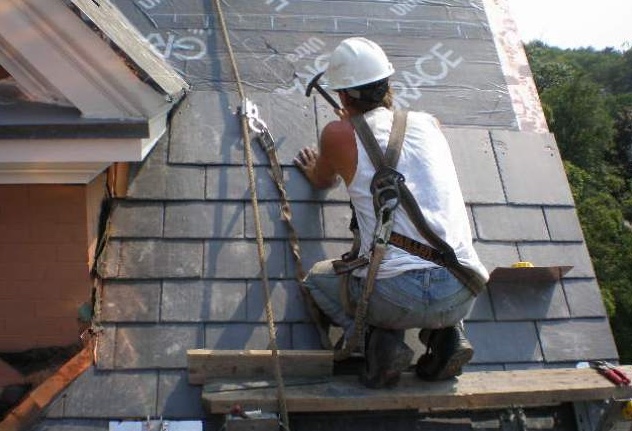 5 Useful Tips Before you Hire your Slate Roofing Company
April 27 2017
There are a lot of slate roofing companies and contractors in Sydney that claim to be reliable and an expert in their field so before you hire any slate roof company following are some really useful tips to help you make the right decision. Make sure you always ask the roofer these questions to avoid any problems or issues down the track when they commence the work.
If you're a homeowner these questions and tips are really invaluable so make sure you read this article.
Meet with the slate roofing contractor for the inspection
This may seem really obvious but many people will not be present when the estimator arrives. Being present when they arrive will enable you to see what needs to be repaired on the roof and what price they are going to charge for their work. It will also allow you to ask any questions that you may have regarding the job and base your decision on whether you are going to hire them or not based on their answers and overall presentation. Any decent contractor will be more than happy to spend the time necessary to answer all your questions. Being at home when they arrive also allows you to make sure they go on the roof and see what the problems are before quoting. Basically, you have to be there and you really should be asking them as many questions as possible.
Quiz the estimator as much as you can
If you don't like the look of them or they seem unprofessional when you first meet with them don't let them go on your roof. Make sure you ask a few simple questions like; how long have you been in business for and throw in a curve ball like; how will the slate be secured to the roof? If they answer nailed and tinned or a slate hook, then these guys are OK. If they mention words like caulk or using metal tabs then I would not be keen on hiring them. This may sound like trivial tests but it's important to find the right slate roof repairer or else you may end up with a bigger job that you started out with.
Compare at least 2 to 3 slate roof quotes
When comparing your quotes from various contractors is vital that you know that you are comparing 'like for like'. Some contractors may use different materials so make sure that you read the quotes very carefully and see exactly what your paying for. Remember this is your roof and the lowest price is not necessarily the best deal for you.
Always check the contractors website and examples previous slate work
Always have a look at their website after the meeting. If there is no website then do not even engage them. Also, if the site looks old and outdated with very old samples of work I would be dubious as this is a clear warning sign that they do not value their portfolio of work. Also, make sure they can give you some referrals of past work they have done and people you can contact. Any decent roofing contractor should have at least 3 they can rattle off quickly. Be sure to contact these people and even drive past their homes and sight the quality & craftsmanship of the work carried out.
Make sure you take before and after photos
You need to see what the issue was on the roof before they started the work ( just in case you are unable to get up there and take these yourself) and what the completed job looks like. Also get them to take a few photos of the work being carried out. This way you can tell that they are addressing the roofing problem. You do not want to pay them for the finished job without clearly seeing the final pictures. Shoddy workmanship happens and you need to see the evidence of the work being carried out and completed before parting with your money.
Overall, most of the slate roofing companies in Sydney are reputable and most of them want to do a good job for you. After all it's their reputation that's at stake. However, following these tips and asking a few questions could protect you from those that are out there looking to cut corners. Be smart and follow these tips.